Barrial free-standing standard® : Aluminium edge protection for flat roofs without public access
System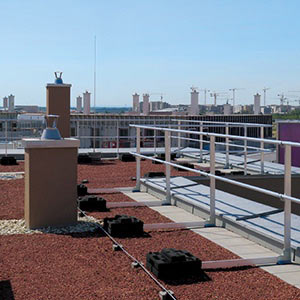 Barrial standard free-standing is a permanent system for protection against falling from height, which meets all statutory constraints.
Barrial standard free-standing is in compliance with NF E 85-015.
It is also in compliance with the French regulation regarding the permanent safety for protection from falling from a height, according to the decree n°2004-924 from September 1st 2004 (Art. R.233-13-20).
The main assets of the system
Installation without piercing the waterproofing
No thermal bridge
Lacquered aluminum finish
Quick installation (only 3 tightenings)
Available from stock in untreated aluminum
Counterweight guaranteed 10 years
---
System components
Barrial standard free-standing is made up of a handrail, a post (straight, curved or angled), an intermediate rail, a skirting (if necessary), a jointing sleeve, a track and a barrilest counterweight.
---
Posts
Barrial standard free-standing posts are available :
straight
15° angled
30° angled
45° angled
curved
In stock : 30° angled and straight posts with fixed height, untreated aluminum finish.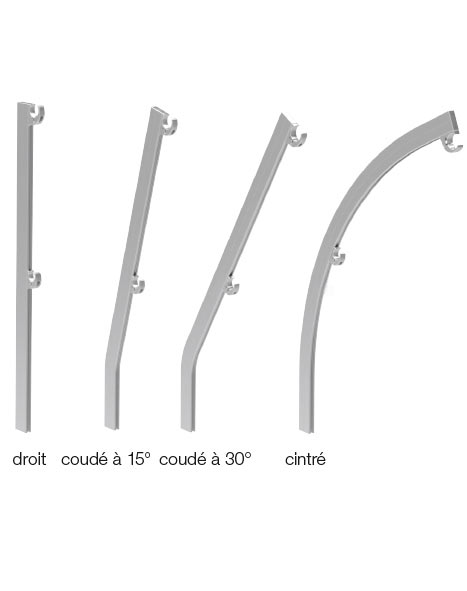 ---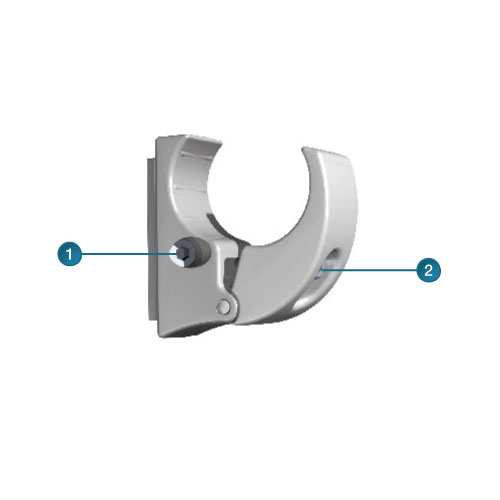 Clamps : quick and practical tightening
Clamps are preinstalled int he factory for a quick installation in compliance with the norm
Installation of handrails and intermediate rails without risk of scratching
Easily adjustable on construction site without dismantling, done with only one tool
---
Sleeve
Quick and practical installation due to :
A mono-fixing assembly sleeve.
An adjustable height of the post (amplitude 30 mm).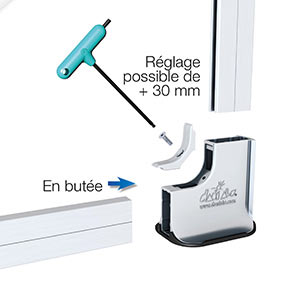 ---
Ballast systems
Barrial standard free-standing can be installed with 
two ballast systems
, designed to preserve the waterproofing membrane.
Barrilest 12.5, counterweight of 12,5 kg
Made of recycled material and is recyclable
Guaranteed for 10 years
Dimensionins in compliance with DTU 43.1
Preserves waterproofing
Stackable, for a better storage
Two integral handles and weight of 12,5 kg for a safe and ergonomic transport
Quick installation : fixing on the track with a self-drilling screw
---
Bacdal

Tray made of polymer (Polypropylene-copolymer), able to support a concrete slab of minimum 25kg (not provided), allowing a clean finish.


Ideal to create a perimeter marking or japanese path on vegetalised flat roofs.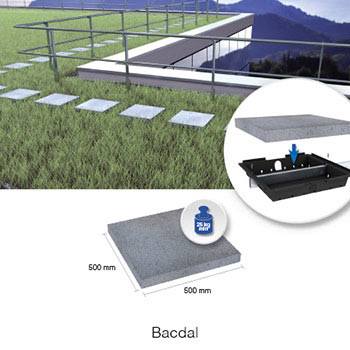 Handrail, intermediate rail and accessories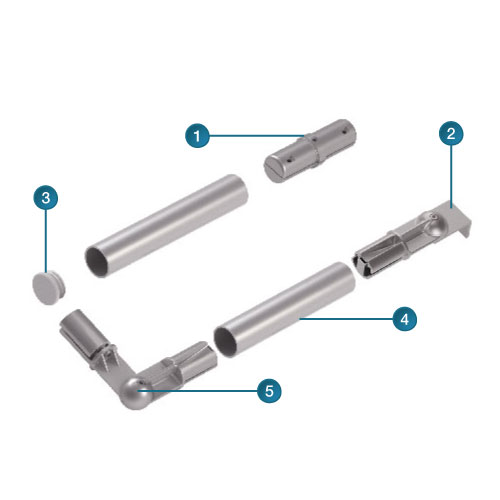 Handrails are Ø 45 mm
Intermediate rails are Ø 35 mm
---
Skirting option

When the height of the parapet wall is below 100 mm, the norm demandes a skirting implementation.
Skirting is easily installed thanks to a clamp adapted to the sleeve.