Marchenet®: Solutions for accessibility for people with reduced mobility (PRM)
System Overview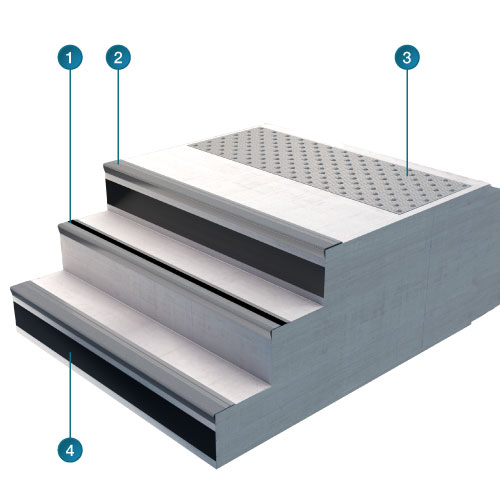 Marchenet is a range of products which makes stairs accessible to those with reduced mobility (confirming to  the standards of accessibility in accordance with the decree of 01/08/2006 and with Circular n ° DGUHC 2007-53 of 30/11/2007.) Designed for public-use establishments (ERP), they can be installed both indoors and outdoors.
The product range includes:
Marchenet - Stair nosing (ribbed / with non-slip strip)
Marchenet - Contrast strip for riser
Marchenet - Podotactile tile
Aluminum step nosing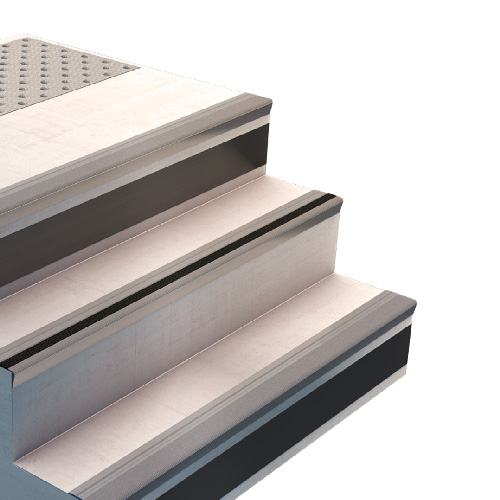 The stair nosing is a signaling system, simple and durable.
The resistance to abrasion is ensured by the anodization of the aluminum. Its durability contributes to the durability of the structure. The stair nosing is applicable on most floor coverings, new or old.
Mechanical and adhesive bonding.
The stair noseing is available in two models, delivered in lengths of 3 m.
Finish
Natural anodized aluminum
The advantages of aluminum stair noses
High mechanical resistance
Non-corrodible
non-skid
Easy to maintain
Protection of the staircase
---
Stair nosing in ribbed aluminum

Its production, in extruded aluminum with streaks in the upper part, allows a visual and tactile contrast, compared to the rest of the staircase.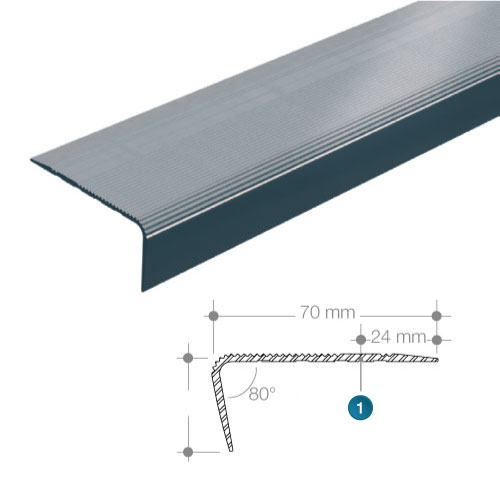 ---
Stair nosing in ribbed aluminum with non-slip strip

In addition to the features of the stair aluminum nose, this stair nose includes a non-slip strip for interior use which:
Enhances the security of the device
Enhances the visual contrast of the stair nose
Is factory pre-assembled on the running nose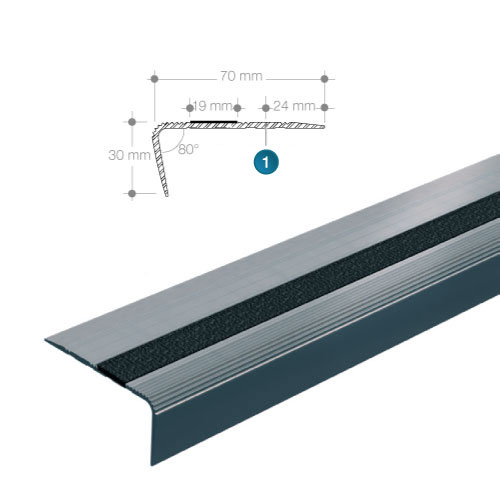 Visible contrast bandl
The visual contrast strip makes it possible to highlight the beginning and the end of a flight of stairs.
System overview
Height 100 mm
Custom Length
Made of aluminum 15 / 10th mm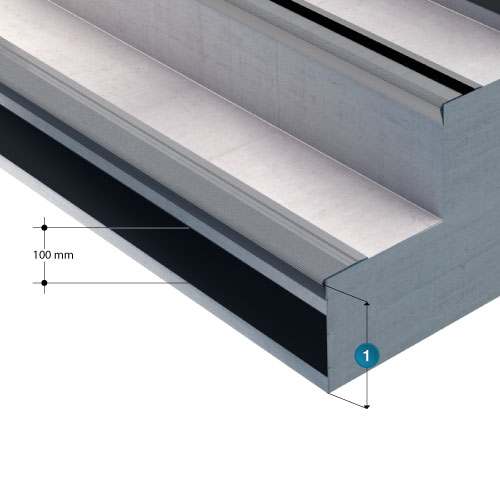 ---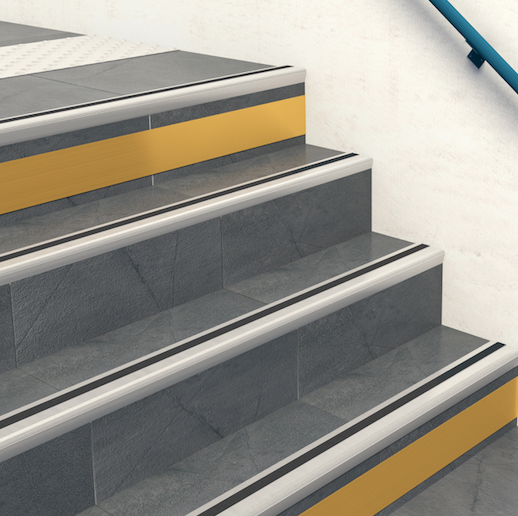 Finishes
Natural anodised aluminum
RAL 9010 lacquered aluminum
RAL-lacquered aluminum on request
Podotactile Tile
The podotactile slab is made of aluminum sheet metal.
It highlights the proximity of descending stairs, thanks to a visual and tactile contrast on the ground. It is installed 500 mm away from the first step in the downward direction.
The advantages of the aluminum podactile tile :
Visual and tactile contrast
Complies with NF P98-351
---
The podotactile slab exists in three lengths:
645 mm,
795 mm,
And 1020 mm.

For other dimensions, contact us.