System Overview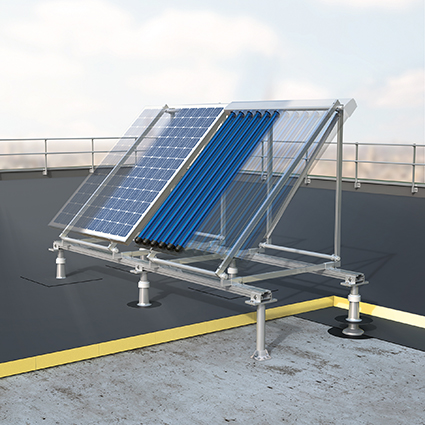 Helial D is a custom-made structure of supports adjustable in three axes for solar panels thermal or photovoltaic.

The system consists of:
Posts with platinum shoe D, mechanically fastened in the slab, supplied with a high platinum sleeve and a low platinum sleeve allowing the current sealing to be resumed above the insulation in accordance with DTU 43.1 and with an elastomeric collar forming A flashing which allows the top sealing to be terminated in accordance with DTU 20.12 (assembly dimensioned according to the Eurocodes.)
Two beams of section 99x54 mm,
Two triangular support structures per panel.

The system combines ease of implementation and transport.

The inclination varies according to the type of panels and the geographical area.