Barrial free-standing premium®: Aluminium height-adjustable edge protection for flat roofs without public access
System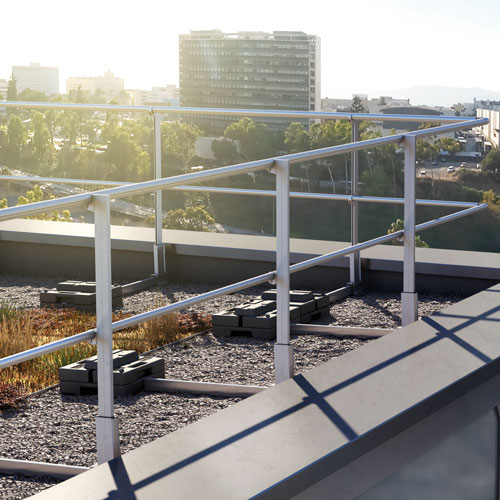 Barrial free-standing premium is a ballasted aluminium guardrailing system for flat rooves which are inaccessible to the public. It allows the handrail to be adjusted in parallel to the parapet wall. All the system (counterweight included) has a 10 year guarantee.
It is a permanent system to protect falling from a height, which meets all statutory constraints. Available in untreated aluminum or in all lacquered RAL color.
The main assets of the system
Handrail in parallel to the parapet wall
10 year guarantee (counterweight included)
Counterweight's shape and material acting as resilient in compliance with DTU 43.1
Quick installation
Folding version
Version without parapet wall
---
Field of application

Barrial free-standing premium is in accordance with current norms NF E 85-015 and NF EN 13374 A class.
Barrial free-standing premium is in compliance with the French regulation regarding the collective and permanent safety for the protection from falling from height, according to the decree n°2004-924 from the 1st of september 2004 (Art. R.233-13-20).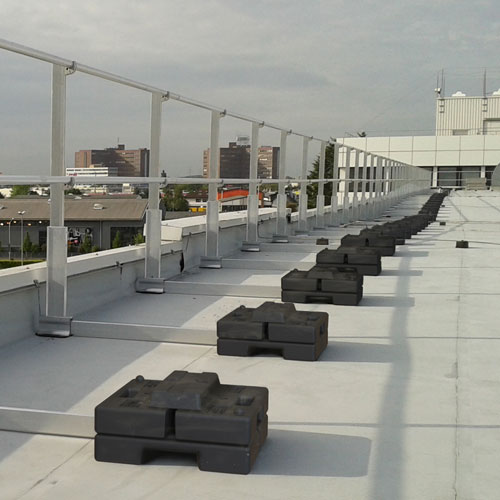 ---
Norms and tests
By its decree of 1 September 2004, French law requires that the prevention of a fall from height is ensured by guardrails (Art. R.233-13-20).

Its applications (DRT 2005/08 of 27 June 2005) retains the NF EN 14122-3 (Safety of Machinery – December 2007) as a basis for checking suitability for use. French standard NF E85-015 of April 2008 replaces the national standard of NF EN 14122-3.

This standard specificies that a guardrail must be instakked as soons as the potential drop height is greater than 500mm.

 

The materials used must be able to withstand atmospheric corrosion (either with or without treatment.)

The entire Barrial range is certified to confirm to the NF E85-015. Certificates and test reports are available upon request. 
---
System components
Barrial standard free-standing is made of a handrail, a post (straight, curved or angled), an intermediate rail, a skirting (if necessary), a jointing sleeve, a track and a barrilest counterweight.
---
Handrail, intermediate rail and accessories
Innovation :

The Barrial free-standing premium guardrail ensures that the handrail is kept horizontal.
---
Stirrup clamps: practical and quick clamping
Factory pre-assembled clamp for quick assembly
Height adjustable on site
Installation of handrails and intermediate rail without risk of scratching
Easy on-site adjustments without dismantling, with use of a single tool
Allows a uniform clearance between heddles in accordance with standards.
---
Posts

Posts of variable height, modified depending on the construction site.
---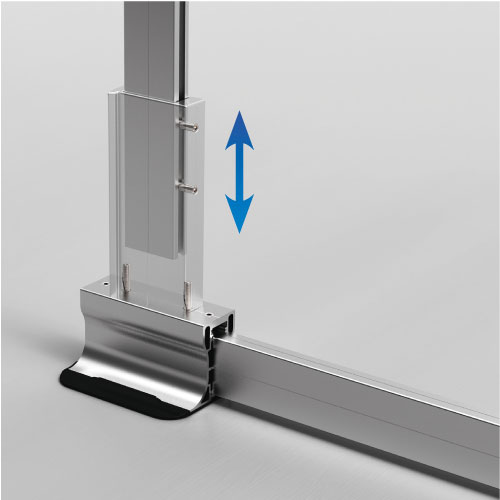 Multifunctional sleeve
The sleeve allows the handrail's height to be adjusted up to 100 mm, thanks to the setting up in the sleeve.
The track can be positioned on both sides of the sleeve for an optimal stability.
The ribbed sleeve allows a easy skirting installation.
---
Ballast systems
Barrial standard free-standing can be installed with 
two ballast systems
, designed to preserve the waterproofing membrane.
Barrilest 12.5, counterweight of 12,5 kg
Made of recycled material and recyclable
Guaranteed 10 years
Dimensioning in compliance with DTU 43.1
Preserves waterproofing
Stackable, for a better storage
Two integral handles and weight of 12,5 kg for a safe and ergonomic transport
Quick installation : fixed on the track with a self-drilling screw
---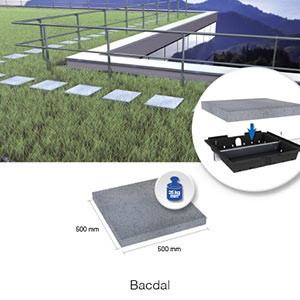 Bacdal
Tray made of polymer (Polypropylene-copolymer), able to support a concrete slab of minimum 25kg (not provided), allowing a clean finish.
Ideal to create a perimeter marking or japanese path on vegetalised flat roofs.
The suitable solution for each case of flat roof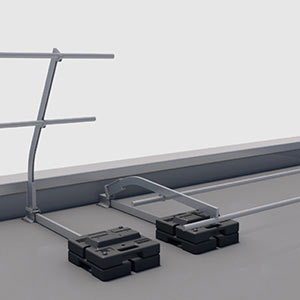 Folding version :

This caters to any specific or architectural requirements.
---
Barrial free-standing premium with skirting :

For parapet walls with a height below 100 mm.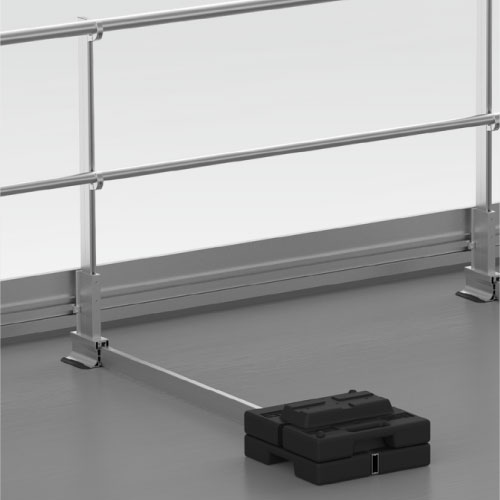 ---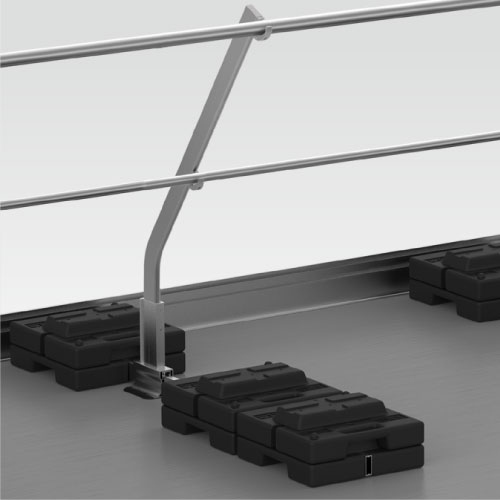 Barrial free-standing premium with skirting when there is no parapet wall.
---
Barrial free-standing TTV for green roof :

The perfect system for green roof top.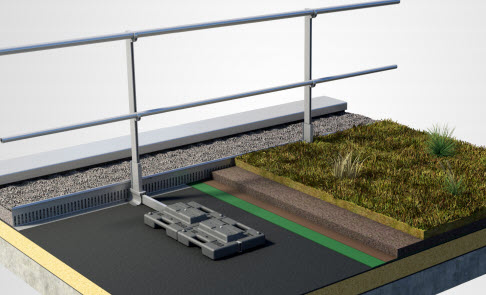 ---
Associated product : Barrial rooflight barriers

Barrial rooflight railings system is a guardrail system preventing falls through a rooflight. It is adaptable to various types of existing rooflight.